Klik x untuk menutup hasil pencarian. Cari di situs Remaja Kristen
Beri komitmen yang Total buat Tuhan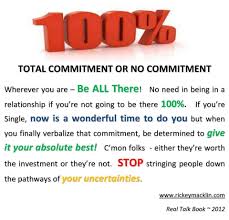 Hi Bro/Sist... soal komitmen ada cerita nih,,simak ya..
Jonathan Edward, pelari lompat jangkit dari Inggris, adalah pemegang rekor dunia pada 3 Olimpiade berturut-turut dan ditahbiskan sebagai "World Athlete Of The Year" tahun 1995. Prestasinya juga tak lepas dari komitmen dan pengorbanannya dalam berlatih. Ia juga berdisiplin dalam pola makan dan tidur. Ia bersaksi "Komitmen untuk berprestasi seperti dengan komitmen yang diperlukan dalam mengikut Kristus". Hmm kita bahas mengenai komitmen lebih dalem yuk, supaya kita ga salah,,,,
1.Apa sih arti Komitmen itu ?
Suatu janji pada diri sendiri / orang lain yang tercermin dalam TINDAKAN kita
2.Menjadi Murid Kristus, perlu komitmen, ada 4 komit seorang murid :
A. Mau diajar ( Kis 2:42), (2 Tim 3:16 )
B. Mau dikoreksi kesalahan, harus siap berkata " Saya salah.." kalo memang salah, ini perlu kerendahan hati
C. Mau berubah
D. Mau menjalankan kebenaran. Firman bukan soal pengetahuan, tapi bagaimana firman itu menjadi "daging" dalam hidup kita
Quote of the day :
Setiap kehidupan akan menjadi luar biasa jika individunya menentukan satu tujuan atau beberapa tujuan yang benar-benar diyakini, dimana mereka dapat memberikan komitmen penuh, dimana mereka dapat memberikan seluruh hati dan jiwa mereka.
Brian Tracy
3.Ada 2 faktor utama yang membuat orang tidak dapat melaksanakan komitmennya secara total:
A. Internal ( diri sendiri )
- CEROBOH, saat akan mengambil keputusan
- KURANG BERPIKIR PANJANG, sewaktu berpikir resiko yang akan dihadapi saat mengambil keputusan
- KEYAKINAN GOYAH karena gak kuat mentalnya
B. Eksternal ( di luar diri sendiri )
- Lingkungan
- Gaya hidup yang tidak benar
- Pengaruh uang
4.Belajar dari Tokoh-tokoh Alkitab yuk...
- Musa ( Kel 19 : 3-6 )
- Zakeus ( Luk 9 : 8 )
- Paulus ( Kis 9 : 1-2 ) , ( Kis 9 : 15 ) → ini komitnya Paulus Gal 2:20
- Rut ( Rut 1:16 )
Berkat-berkat Berkomitmen
Lakukanlah sebuah komitmen dengan siapapun seperti untuk Tuhan ( Kol 3:23 – 24 )
Lakukanlah dengan setia karena ada upah didalamNya (1 Kor 15:58)
5.Apa aja komitmen yang harus dipegang orang percaya ?
- Komitmen pada Tuhan ( taat pd Tuhan, Bersedia melayani Tuhan seumur hidup)
- Komitmen pada keluarga
- Komitmen pada Gereja (setia pada gereja lokal, peduli pertumbuhan gereja)
- Komitmen pada pekerjaan
- Komitmen pada Negara
Mission Possible
Kita udah mengenal komitmen, apakah kita bisa seperti Jonathan Edward seperti cerita diatas? Mari kita tunjukan kesungguhan hati kita untuk melayani pekerjaan Tuhan. God Bless Us....
Ada harga yang harus dibayar untuk tumbuh. Bayarannya adalah komitmen (Ed Cole )